An app for loneliness launched Former Zimmerman resident has found a way for lonely people to connect
by Beth Balmanno Contributing Writer: 
Plat, short for platonic, is an app with the specific purpose of helping people find and develop friendships to address what experts have called the "loneliness epidemic.
The cure for loneliness may be just a click away. Nathan Lipinski, a former Zimmerman resident currently attending University of Minnesota, Duluth, is developing Plat, an app with the specific purpose of helping people find and develop platonic friendships to address what experts have called the "loneliness epidemic."
The idea for the app grew from Lipinski's own experiences, especially when he began medical school.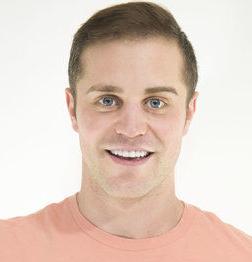 "I found out my first two years in medical school that the life of a doctor is frequently a lonely one," he said. "All of our interactions are protected by the ethical foundations and boundaries that govern medicine. We sacrifice our social life as youth with hours of studying. Your friends have moved on, and you find yourself not having much in common with anyone who isn't a physician."
With this in mind, and knowing that loneliness can affect anyone and at any age, Lipinski decided to explore creating an app to address this issue. He'd already dabbled in entrepreneurship before with his company, MC-Cubed, developing a device named Starship that can determine if temperature-sensitive items are shipped at the right temperature.
Taking a year off from medical school, he dove into app development, launching a Kickstarter campaign, finding investors and hiring employees to help bring his idea to fruition. Plat is currently in beta mode and should be available in all app stores in June.
The way the Plat app works is simple. Users can choose between two areas: active or social. From there, new subcategories called "bins" appear, further drilling down to find similar interests. Examples of active bins include workout activities, crafts and hobbies, and outdoor activities, and social bins include nightlife, games and film, and sightseeing. Once a bin is selected, a screen pops up with the words "I would like to…" and the user fills in their specific request. An example might be "I would like to play a game of volleyball at Lake Orono" or "I would like to get together and knit." These "headlines" stay on the app for six hours, allowing other individuals who have similar interests to see it and potentially get together for the activity.
"For most people, mutual interests are at the foundation on which almost every friendship is born," Lipinski said. Finding those connections can be hard, especially when living in a small town like Zimmerman. "If I could have had this app growing up, I would have found someone who loved gardening as much as I did."
Plat is being marketed to 18- to 34-year-olds, and there are plans to create a similar platform specifically for senior citizens. This app, Silverware, is slated to launch in December.
Lipinski believes the Plat app will work in all types of settings, especially in small towns and rural settings.
"Rural communities are particularly prone to social isolation," Lipinski said. Citing research he's learned in medical school, he adds, "A study done by the UMN Rural Health Research Center stated that addressing social isolation should be viewed as a matter of primary prevention and as imperative to population health."
In layman's terms, this means combating loneliness should be at the top of the list in preventative health care.
Some might argue that the rise of social media and phone usage, in general, has increased people's feelings of loneliness, so an app is the last thing we should use to address it.
Lipinski disagrees.
"The app is a product of the time we live in. It takes advantage of technology that is available to establish interpersonal connectivity." Further, he said, "The design of the app does not encourage one to spend a lot of time on it, except with the goal of finally connecting with someone in the real world."
Safety was also a concern for Lipinski. The app has integrated social media outlets so it can show if you already have mutual connections with users via Facebook, Twitter, etc.
"We use the friends you have to find the ones you need," Lipinski said.
Although Lipinski has dedicated the last year to Plat's development, he does plan to go back to medical school in June. This time, he'll be armed with a way to combat the loneliness he felt his first two years, and he hopes that others will be inspired to try the app, as well.
He especially hopes people in his hometown and the surrounding areas will see the value of Plat.
"People in small towns may live farther apart, but there are more people interested in what you are doing than you probably think," he said.
For more information about the app or to sign up for updates, visit platonicpeople.com
(copied from https://www.hometownsource.com/elk_river_star_news/community/zimmerman/an-app-for-loneliness-launched/article_aa3ec36e-78d1-11e9-bb2f-3ba9d1deb646.html)